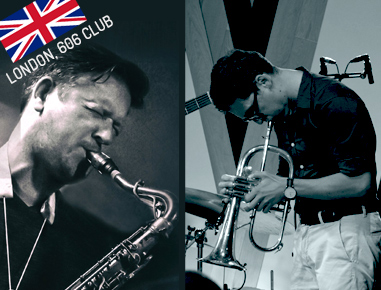 Gábor Subicz & Paul Booth
2020. január 23. Thursday
Harmónia Jazzműhely
London, 606 Club
IN COOPERATION WITH THE BUDAPEST JAZZ CLUB  HARMÓNIA MŰHELY ALAPÍTVÁNY
PROUDLY PRESENTS AN ALL-STAR LINEUP:
GÁBOR SUBICZ
the Hungarian star trumpeter with ace UK saxophonist
PAUL BOOTH
  and a topline UK rhythm section of
TIM LAPTHORN, ARNIE SOMOGYI & LLOYD HAINES
GÁBOR SUBICZ, a graduate of the world famous Franz Liszt Academy is an outstanding player on the Hungarian jazz and pop music scene. A truly versatile musician, a resourceful improviser but also a terrific accompanist a team player, he won numerous awards over the years, including the Special award from MOL Jazz Festival and the Audience's choice award in the Hungarian National Jazz Trumpet Competition. He won the Artisjus award in 2018, a prestigious prize from the Hungarian Bureau for Copyright Protection. He is remarkably active as a composer and arranger as well, winning prizes on numerous competitions, he came first in the 2nd European Big Band Composer Competition in Copenhagen in 2014. He also writes music for theatre and movies. The Hungarian biopic 'Curtiz' (celebrating the late Hollywood director, Michael Curtiz) features his original score and won countless prizes at film festivals all over the world.
Gábor plays in many Hungarian jazz and pop bands, and leads his own group, the Subtones since 2008. He a founding member of the Modern Art Orchestra, one of Europe's best contemporary jazz big bands.
PAUL BOOTH A powerful and lyrical player, Paul is without doubt one of the leading saxophonists of his generation. He includes a number of prestigious awards on his CV, including "Most promising young Jazz player", "Best modern Jazz player" and the American "Clifford Brown/Stan Getz Award". He is currently a long standing member of the Steve Winwood Band as well as a regular with iconic Groove/Soul band Incognito. He is without question one of the most respected musicians on the scene today. "Blistering saxist" Independent; "Exceptional talent" Sunday Times.
ARNIE SOMOGYI, one of the UK's leading jazz bass players and innovative  bandleaders. He's played around the world with many of the world's top jazz musicians from Steve Grossman, James Moody, Bobby Hutcherson, Annie Ross and Clare Martin, to Art Farmer, Joey Calderazzo and Bud Shank. He is much drawn to the music of his Hungarian father's homeland. Arnie was also the motivating force behind IMPROVOKATION, a ground-breaking Anglo-Hungarian 10-piece ensemble of leading jazz and folk musicians. The debut tour in 2004, included Cheltenham International Jazz Festival, Appleby Jazz Festival & Ronnie Scott's.
The amazingly versatile and brilliant drummer, LLOYD HAINES, a rising star on his instrument completes this fantastic line-up. 
These are samples of Gábor's playing:
További koncertek >>