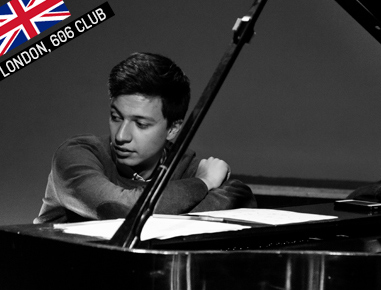 Krisztián Oláh
2018. október 4. csütörtök
Harmónia Jazzműhely
London, 606 Club
KRISZTIÁN OLÁH
an astonishing young pianist from Hungary
  with  the great UK sax-player
PAUL BOOTH
and an all-star backing by
CALUM GOURLAY and CHRIS HIGGINBOTTOM
Coming from a great musical dynasty the amazingly talented young pianist, KRISZTIÁN OLÁH was 17 years-old when he won the solo piano competition at the Tirgu Mures International Jazz Festival in Romania. During the following years he piled success upon success at similar competitions in the UK, Latvia and Holland. He was still only 20 when he came third in the solo piano competition at the prestigious Montreux Jazz Festival. Within the next two years he won five different awards. He has already developed a highly individual yet approachable style.
PAUL BOOTH A powerful and lyrical player, Paul is without doubt one of the leading saxophonists of his generation. He includes a number of prestigious awards on his CV, including "Most promising young Jazz player", "Best modern Jazz player" and the American "Clifford Brown/Stan Getz Award". He is currently a long standing member of the Steve Winwood Band as well as a regular with iconic Groove/Soul band Incognito. He is without question one of the most respected musicians on the scene today. "Blistering saxist" Independent; "Exceptional talent" Sunday Times.
London-based double bassist and composer CALUM GOURLAY is known for his deep warm tone, controlled execution as both a supporter and improviser, and rock solid time and pulse. Born in Glasgow, Scotland he  has become a mainstay on the London scene while performing with the Kit Downes Trio, The Tommy Smith Group, Will Vinson, The Scottish National Jazz Orchestra featuring Joe Lovano, John Scofield, and Kurt Elling, Martin Speake, Martin Kershaw and Sheila Jordan. He also writes for his own big band which has a monthly residency at the Vortex in London.
CHRIS HIGGINBOTTOM is one of the UK's top drummers. He is a member of both the Kyle Eastwood Band and the Ronnie Scotts All Stars. He lived for eight years in New York where he played with many of the biggest names in jazz including Mark Murphy and Seamus Blake. He has also performed in practically all the famous jazz clubs in the world.
This is what Krisztián sounds like:
https://www.youtube.com/watch?v=2vfbXQJM39k
https://www.youtube.com/watch?v=eOXST7o7x5w
További koncertek >>